Setup Process – Starting your business in Dubai is simple with DAFZA!
DAFZA was established as the ideal destination for a wide variety of businesses. Whether you're a start-up or an established company, we offer free guidance to all our potential investors to explore how DAFZA can play a key role in your businesses' growth strategy. Through our network of partners, we provide you with all the information you will need to take advantage of DAFZA's many opportunities. With our fast and efficient
Business Set-up
process, doing business as a UAE entity takes just three simple steps.. Setting up a business in Dubai has never been so easy For more information or to discuss your own set-up requirements, call one of our advisors today at +971 600 532 392.
For more information or to discuss the  business set-up process as per your requirements in DAFZA, call one of our advisors today at +971 600 532 392.
Choosing your COMPANY Licence
Trade Licence: This type of licence allows the holder to carry out trading activities, including import, export, re-export, distribution and storage of specific products.
Service Licence: This licence is suitable for service-oriented businesses. It enables entities to provide the services specified by their licence.
Industrial Licence: This allows holders to undertake light manufacturing activities, packaging and assembly.
E-commerce Licence: With this type of licence, holders are entitled to trade of goods and services online.
General Trading Licence: This licence allows the holder to trade in general activities, including import, export, re-export, storage and distribution.
Dual Licence with DED*: This licence allows DAFZA-registered companies to apply for a DED (Dubai Department of Economic Development) Licence without the need for physical office space on the mainland. Businesses possessing this  licence can operate out of DAFZA.
Freezone Company (FZCO/FZ-LLC)
1-50 shareholders, individual/non-individual
Minimum share capital of USD273**
Branch Office
The branch office of an existing company
No share capital required
All trading activities including trading of specific products are allowed, as long as they are not hazardous or illegal. Click below to view the activity list.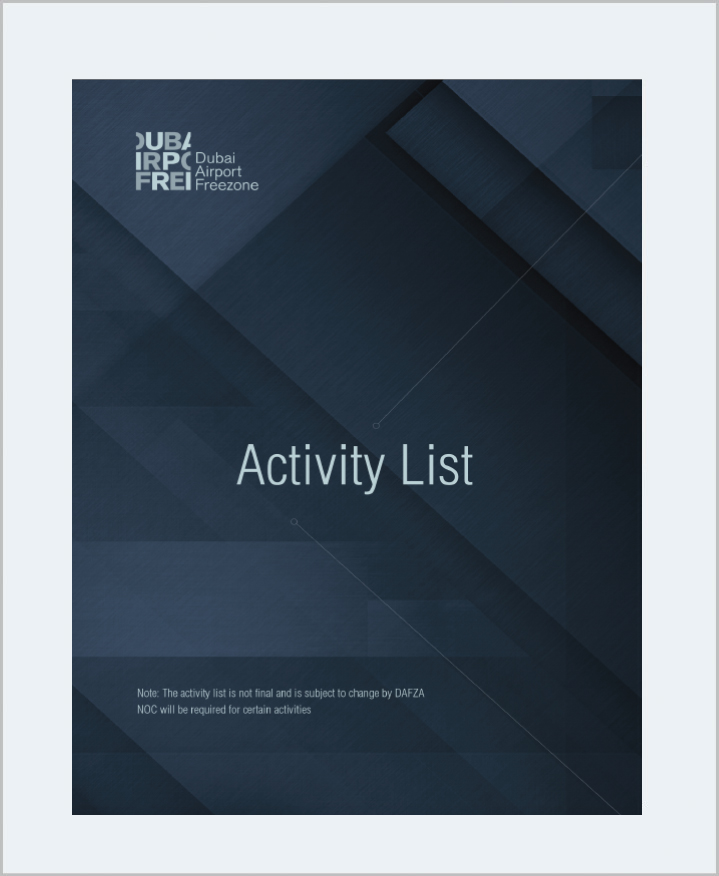 Upon confirming the facility with our Sales Team, the lease agreement will be issued for the Authorized Manager to sign.
You can now sign the lease agreement, Upon the confirmation of the payment receipt according to the agreed payment plan. you can collect your office keys.
In finalizing the lease agreement and legal documents, DAFZA's sales team will guide you with each step to make the process as smooth as possible.
1. Depending upon the activity of your business, you may require applying for NOC from external government entities.
2. Bank share capital letter will be required if share capital is above AED 150,000.